Janiqueel has a look at ten products that will make your work-from-home days be productive and regenerative. One of them tastes terrific! Home is a great place to look good, even if you're with the same people you see 24/7 or are all alone. If you look better - in the mirror, to yourself - you're going to feel better. If you feel better, you are going to work better. Someday soon, you will be out there in the real world again. Working alone from home is a great place to practice and find products that best suit you.
Here's TEN to get you started:
I can feel it. The Covid restrictions are going to ease. Maybe our lives will never be like they were before, but a change is gonna come, and it's gonna be good. From these days of working from home, draw strength and feel good. And look good, too!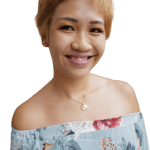 Janiqueel loves. Xe loves to dine, to drink, to travel, to primp, to rave, and to revel. Xe celebrates xem life and believes in loving without boundaries, polyamorously. This philosophy informs xem stylish lifestyle blog – janiqueel.com. Here, xe highlights new products and services in Singapore and beyond through bouncy writing and vibrant graphics. Xem premier subject, model, charmer, and squeeze is xem toddling child known affectionately to readers as "Mx. C".