Introducing #FaceOmbre by ICONIC London
Create an ICONIC cheek-lift using the brand's viral #FaceOmbre technique. Simply dot, dot, dot and BLEND Sheer Bronze, Sheer Blush and Illuminator for a glowing, gorgeous and LIT look.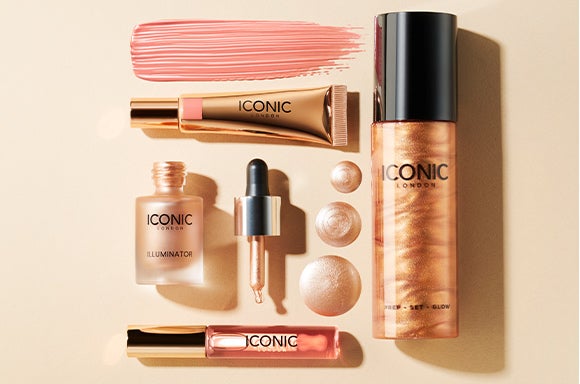 ABOUT ICONIC London
Founded seven years ago, ICONIC London is world-famous for our GLOW-giving products, loved by professional MUAs, celebrities and influencers alike!
Inspired by a passion for makeup and the exciting, limitless energy of busy, city life in vibrant London, the team at ICONIC London knew we wanted to create on-the-glow products that made our customer feel as good as they look with instant, instagrammable effects.
We believed we could, so we did. That's why we say that ICONIC isn't just our name, it's an empowering energy – a self-affirming and fearless mood! - that runs through everything we do.
We know our customers well, because we ARE them. Our passion is to make people all over the world feel confident.
From everyday get-glam makeup to luxe skincare hybrids, we've got the beauty big guns you pull out when you really want to add the wow factor to your look.
We've been featured in Vogue and worn by Khloe Kardashian and Beyonce – our products really work (and always offer something a little extra!)
We believe no animal should be harmed in the making of our products. We're totally, and proudly, cruelty free.
We make our own rules. Watch this space.
SHOP NOW