"Write it on your heart that every day is the best day in the year." - Ralph Waldo Emerson
Every day is a great day to care for your skin. Since we are on the cusp of the Year of the Tiger, this is an auspicious time to explore what products can help you stay youthful and radiant today and tomorrow. With Janiqueel, have a look at ten top-selling beauty aids in Singapore:
1.

Fresh Soy Face Cleanser 

Light and hydrating, this cleanser uses natural ingredients like soy protein, borage seed oil, soothing cucumber extract and rosewater to gently cleanse and rehydrate, and renew skin tone and elasticity. Massaging into the skin and over the eyes and morning and evening, gently and effectively restores balance and purity to your beautiful face.

Perfect for a new start in the new year, Pixi Glow tonic is an exfoliating toner - a tonic for the skin and for a refreshed YOU. After cleansing, morning and night sweep a cotton pad soaked with PGL across your face, neck and décolletage for a smooth, radiant clarification session that takes seconds and works wonders. Formulated with aloe vera, ginseng and botanical extracts, PGL leaves your skin renourished and pampered. Go ahead– pamper yourself this year.

3.

Aesop Lightweight Facial Hydrating Serum 

Did you know? Skin gets thirsty, too. Quenching with long-lasting hydration and vital nutrients, Aesop Serum uses aloe vera as a key ingredient to moisturize your skin. As an alternative to oil-based and heavy creams, this lightweight serum helps keep skin moist without excessive shine. In hot, humid climates like Singapore's, it dries to a nongreasy matte leaving your skin nourished and protected, but not dry and taut. Suitable for tender, blemish-prone skin, Aesop Serum is vegan and cruelty-free, the serum keeps your conscience clean, as well as your skin.

4.

111SKIN Rose Gold Brightening Facial Treatment Mask Box

Once a limited, hard-to-get product, the 111Skin Mask Box, has gone from a cult 'must-have' to one that's available to you, right now, right here – just in time to welcome the Year of the Tiger. Use three times a week (or more often, if you feel that you need extra hydration). Wear the comfortable masque for twenty minutes, then peel off to reveal a revitalised skin tone.

5.

The INKEY List Retinol Eye Cream

Working to encourage collagen production, INKEY Eye Cream blurs lines and wrinkles giving your eyes a brighter, smoother look. When your eyes look brighter, SO DO YOU! Use those diamond-bright orbs to see in the New year with style and flair. Rich with vitamin A, retinol helps firm and smooth the smooth skin surrounding your eyes. Used regularly, the cream keeps delicate eye skin looking and feeling taut and pumped, like your muscles after a good gym workout.  Use it in the evening with gentle pats to feel good for a good night's sleep.

6.

Chantecaille Ultra Sun Protection SPF 45

Lightweight, oil-free, Chantecaille Ultra Sun Protection offers a highly-effective, high-tech sunscreen with the added bonus of anti-ageing ingredients. Soothing botanicals and Carnosine soothe, firm, and tone skin softening the appearance of tiny lines and wrinkles. You can wear it alone over moisturiser of under foundation s a protective soothing primer. Shake well before using and shake yourself awake after. We are talking about protection against harmful UVA/UVB rays. That's a good thing for you and your skin.

7.

TriPollar STOP Vx Facial Renewal, Reshaping & Rejuvenation Device

Welcome to a brand new year with a brand new technological marvel, one designed to help you look your very best. Using interchanging radiofrequency waves to distribute soothing heat to the dermis layer, collagen is stimulated to support elastic fibres. That means your skin is smoother and touted after the treatment. That means you look younger when fine lines and wrinkles are smoothed out. Like a weight workout in the gym, your muscles are exercised in the process. It is like a high-end salon treatment but in the comfort and convenience of your own home.

8.

NuFACE Mini Facial Toning Device

Here's another technological device to make your at-home skincare routine fast, effective and cost-effective. Think of it as a salon-quality face-lift solution that you can use at home, at your convenience. Using micro-current technology, the NuFACE device lifts and re-contours the appearance of your face. After applying NuFace gel Primer, pass the device over one area of your face at a time. Remove any excess gel with a damp cloth, continue with your usual routine, Phone a friend. Go out. Welcome the NEW YEAR, TIGER!!!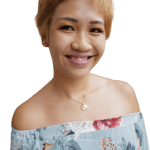 Janiqueel loves. Xe loves to dine, to drink, to travel, to primp, to rave, and to revel. Xe celebrates xem life and believes in loving without boundaries, polyamorously. This philosophy informs xem stylish lifestyle blog – janiqueel.com. Here, xe highlights new products and services in Singapore and beyond through bouncy writing and vibrant graphics. Xem premier subject, model, charmer, and squeeze is xem toddling child known affectionately to readers as "Mx. C".