Elevate your beauty regime and find what you need for an uplifting beauty boost this month. Here you'll find TEN premier products from brands founded by trailblazing women in the business of beauty. Remember, it is SPRING, the season of new beginnings - for YOU, My Dear.
NEOM Super Shower Power Body Cleanser
With coffee extract and oat milk, the perfect way to start the day. Power up your morning shower with hints of spearmint, rosemary, and eucalyptus essential oils. Cleanse and nourish your skin, then enjoy the zingy aroma for the rest of the day. Vitamins antioxidants? Got 'em! Feed your skin then have an oat milk coffee.
Doll Beauty Highlighter
Use a fluffy brush to gently apply to the cheekbones, brow bone, and OF COURSE, the Cupid's Bow. Suitable for medium or light skin tones, the soft powder exudes a subtle shimmer upon which to build your makeup creations. Be a doll with your pink mirrored compact and killer cheekbones.
Delikate Recovery Cream Mini
Providing fast, long-lasting results, this cream aims to soothe irritated skin as it calms tight dryness. As you apply the cream, you are building a healthy barrier from the pollution of the big, bad world. As it works, you'll notice that irritation redness is reduced right away. Really thick and really creamy keep it close when you are out enjoying the spring sunshine.
Pai Cleansing Oil
Gently efficient, Pai Rosehip Cleansing Oil speedily shifts away makeup and daily grime to give you soft clean skin with no stinging or irritation. Even sensitive skin can enjoy the benefits of this gently powerful oil. Not to worry, it is gentle on the eyes as well. If you have ever had trouble taking off waterproof mascara, you won't anymore.
OUAI Treatment Mask Fine/Medium
Formulated with a blend of bergamot, lychee, white musk, champagne, this mask is made for those with frizzy, damaged fine or medium hair. Healthier, smoother hair results. Especially effective for split ends, just apply a bit to your hair starting at the roots and working to the ends. Chill for five minutes and rinse with cool water. Oh, Yes!
Frank Body A-Beauty Scrub
Born and bred in Australia, this scrub works to turn around the ill effects of the out-in-the-sun lifestyle. With Kakadu Plum and Finger Lime to work on breakouts, scars, and hyperpigmentation, the scrub even tackles stretch marks and cellulite. In the shower, massage all over your body 3-4 times a week. Then take a deep breath to appreciate the Down Under aroma.
Nuxe Huile Prodigieuse® Florale Multi-Purpose Dry Oil
In any season, your face, body and hair will enjoy the benefits of this dry oil. Helping to prevent stretch marks, this dry oil uses essential oils to soften skin, and brighten hair. With a revitalizing floral scent, the dry oil lifts your spirits as it nourishes your skin and hair. Make the most of your natural beauty.
Floral Street- Wonderland Peony
With hints of cedarwood and hazelnut and a generous dollop PEONY, of course, this perfume, hand-crafted in the U.K., present a fresh, clean scent. That's because it is built of fresh, clean ingredients. There is nothing overpowering about the Floral Street perfume. On the contrary, it is subtle and spring-time fresh like a spring flower. Like you!
Bleach London Reincarnation Hair Mask
Formulated for coloured hair, this hair mask is a treatment that brings life to bleached or coloured hair. Enriched with sunflower seed and wheat proteins, the mask renews the vibrant tones of hair while providing resiliency and bounce. Comb it through freshly-shampooed hair and let it work for a few minutes, or wrap your hair in a towel and luxuriate.
By Terry Ombre Blackstar Eyeshadow Stick
An eyeliner, illuminator and eyeshadow all in one slim package ready to find a place in your bag or makeup kit to add a dash or two of sophisticated beauty to your eyes. Gliding on effortlessly, the creamy formula adds a long-lasting iridescence. Available in nine shades, you might opt for more than one depending on the time of day of your special occasion.
Grab yours now!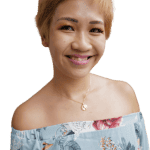 Janiqueel loves. Xe loves to dine, to drink, to travel, to primp, to rave, and to revel. Xe celebrates xem life and believes in loving without boundaries, polyamorously. This philosophy informs xem stylish lifestyle blog – janiqueel.com. Here, xe highlights new products and services in Singapore and beyond through bouncy writing and vibrant graphics. Xem premier subject, model, charmer, and squeeze is xem toddling child known affectionately to readers as "Mx. C".