Clean Beauty, Plastic-free. Refillable, Carbon Neutral, Biodegradable, Reusable. What do all of these have in common? EARTH DAY when we give our fab planet our best thoughts and promises to protect her as much as we can. Here's a look at beauty products that have the earth in mind as they tick the boxes of each of the six categories:
Clean Beauty
FARMACY Honey Drop Lightweight Moisturising Cream
Combining clean, locally-grown for "farm-to-face" skincare. It's a gel cream with hydration as its key goal. NOT tested on animals as free of those ingredients that d you and earth no good.
Ecooking Vitamin A Serum in Capsules
Made in Denmark and OK for vegans, these cute little capsules are therapy for the fine lines around your mouth and eyes. Use your fingertips to smooth on the liquid every night or twice a day if you're using it as a facial treatment.
Caudalie Vinoperfect Complexion Correcting Radiance Serum
Designed to address hose dark spot problem areas, while producing a more uniform complexion. With a minty, fruity aroma, you'll sense the back-to-the-earth vibes as you apply it. Use it underneath your sun cream to promote an even tan.
Plastic Free
Weleda Calendula Soap
Using plenty of eco-friendly ingredients and NO MICRO-PLASTICS, this soap produces a creamy lather with aromatic hints of chamomile, coconut, and olive oils. Like the fragrance, your skin will feel light and refreshed.
Bulldog Original Shave Soap and Bamboo Bowl
Housed in a handsome, reusable bamboo bowl, this shaving soap is smooth, efficient and calming. Blended from all-natural ingredients, the soap helps prevent post-shave irritation. For total eco-consciousness, soap refills are available to reuse your beautiful bowl.
KMS Head Remedy Solid Sensitive Shampoo
Available in a bar form, this shampoo eliminates plastic-intensive packaging. With an olive chamomile base, this shampoo targets irritation and clams your scalp, detoxifying without stripping away essential oils. Cruelty-free, too - a plus for Earth Day or any day.
Refillable
OUAI Fine Hair Shampoo Refill
Do the earth a favour while volumising your beautiful hair. Fill the elegant OUAI bottle more than three times with this earth-friendly option. Enjoy fuller, bouncier hair as you feel good about doing your small part to save the earth.
Medik8 Press and Glow Tonic Refill
Convenient and easy to use, the Press and Glow system delivers just the right amount of tonic on a pad. Now, you can refill the bottle without adding eco-guilt. Exfoliating and resurfacing, Medik8 leaves a more supple colour-even surface that feels fresh and renewed.
Regenerate Enamel Serum Refill
Once the boosing serum is finished, you can continue to use the kit with this refill. Using enamel serum is a sure way to strengthen the surface of your teeth ensuring natural protection from daily discolouration and greyness. That's it - Give us a BIG smile!
Carbon Neutral
Neal's Yard Remedies Women's Balance Massage Oil
Use the oil all over your beautiful body as an aromatherapeutic massage oil. You'll relax as your skin absorbs the soothing oils producing a new suppleness and radiance. Take a deep breath and luxuriate in the calming aroma. Omega-rich buckthorn oil does the trick naturally.
Sukin Deodorant
Suitable for all skin types using all-natural ingredients, this deodorant eliminates bacteria that cause odour. Certified 100% carbon neutral, the Sukin Company is committed to producing effective products in an earth-conscious way. Scented with fruits and nuts - naturally!
Neal's Yard Remedies Women's Balance Foaming Bath
With an aloe vera and glycerine formulation, the foaming bath uses plant-based cleaners to soothe and relax as it regenerates your skin's natural suppleness and bounce. Step out of the bath feeling fresh and renewed. And smelling GREAT!
Biodegradable
Elizabeth Arden Ceramide Capsules Advanced
Each beige little capsule is biodegradably designed to deliver a concentrated dose of ceramides to repair and strengthen while renewing collagen. The result? A smoother, softer, more luminous appearance with a healthy-looking bounce and fewer fin lines.
FOREO Bulgarian Rose UFO Moisture-Boosting Face Mask
100% plant-based and biodegradable, the mask is an innovative, earth-friendly answer for those who want an effective mask without eco-damage. Bulgarian Rose provides hydration and jojoba oil balances and conditions. As part of the "farm-to-face" collection, the mask is naturally eco-friendly.
111SKIN Anti Blemish Bio Cellulose Facial Mask
Biodegradable and free from paraffin and sulfates, the mask is formulated especially for blemish-prone skin, balancing and purifying your skin's natural elasticity and hydration. Clearer, rejuvenated skin is the final product. You'll look good and feel good about the environment.
Reusable
PMD Clean Pro RQ – Blush
Using an integrated rose quartz stone, this device vibrates 7,000 times each second to eliminate dirt, excess oil and skincare residue. Combined with mild heat, the vibrations soothe and relax your skin while lifting and firming. There is no need to replace the vibration heads, just rinse and repeat.
SILKE Hair Wrap The Kate – Navy
Inspired by the ancient tradition of wrapping the hair at night, The Kate is made from pure silk reducing friction that can damage hair and split the ends. Long or short hair, curly or straight, the Kate accommodates all hair types and styles. Say goodbye to bedhead. Simply remove it in the morning and greet the day with a terrific look.
Magnitone London Steam Ahead Hydrating Facial Micro Steamer
In just ten minutes a day, you can have a re-energising steam facial in your home. After cleansing and drying your face, fill the chamber with water (add essential oils for enhanced pleasure) and let the micro steam do its work for ten minutes. You'll notice how your usual creams and skincare products soak into your skin more efficaciously.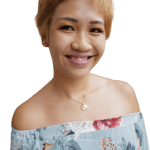 Janiqueel loves. Xe loves to dine, to drink, to travel, to primp, to rave, and to revel. Xe celebrates xem life and believes in loving without boundaries, polyamorously. This philosophy informs xem stylish lifestyle blog – janiqueel.com. Here, xe highlights new products and services in Singapore and beyond through bouncy writing and vibrant graphics. Xem premier subject, model, charmer, and squeeze is xem toddling child known affectionately to readers as "Mx. C".