READY. SET. GO with Christophe Robin. Haircare at the cutting edge of chemical technology and SUPER STYLING SENSE. Using exotically natural ingredients, (prickly pear, sea salt, rassoul clay, and rose extract), these new products bring new life and vibrancy to your hair and scalp. That is just what you news to kick off a prosperous and happy New Year. Did I say you're gonna love it? You're gonna love it!
Here are FIVE products from the premier brand of haircare professionals to help you greet the New Year in Style:
1.

Christophe Robin Cleansing Purifying Scrub with Sea Salt 250ml

Gently exfoliating as you massage into your scalp, this Purifying Scrub detoxifies your scalp and hair in a user-friendly style. Invigorating the scalp and leaving your hair squeaky-clean, this shampoo, use once a week, or after colouring, is built from a high-tech formula. Like a soothing bach in slat water, the scrub leaves your hair shiny, bouncy, and tangle less. It leaves you happy and radiant. Replacing dry flakes with super-hydration, the scrub is like a high-end salon treatment. Try it. You'll LOVE it!

2.

Christophe Robin Regenerating Mask with Prickly Pear Oil 250ml

High in fibre, antioxidants and carotenoids, the prickly pear fruit is a delicious natural wonder. When formulated into a soothing mask, it is a tonic for dry, damaged or chemically-treated hair. After massaging into your hair and scalp, leave it on for five minutes or so. Rinse it away and see and feel the difference that prickly pear oil can make for your hair and scalp. Targeting frizz and split ends, the regenerating mask leaves hair supple, tangle-free and ready for styling. Ever eaten prickly pear? Give it a try for breakfast tomorrow.

3.

Christophe Robin Volumising Conditioner with Rose Extracts 200ml

Like prickly pear oil and rassoul clay, ROSE EXTRACT is a moisturizer and a ph balancer. Exotically, baobab leaves are also part of a blend that gently revitalizes while leaving colour intact leaving your hair brilliant and fresh. Lather it into your hair, leave on for a few minutes then rinse away. Followed with a volumizing shampoo from Christophe Robin is a stellar formula for intensive and effective home treatment. "Calming and healing" are words often associated with Rose Extract, a key to thicker, bouncier hair.

4.

Christophe Robin Volumising Mist with Rose Extract 150ml

Continuing the Rose Extract theme, but in an easy-to-use-anywhere convenient bottle, the volumizing mist is a trusty companion to your lifestyle. Just a sprayer two will leave your hair either naturally styled or ready for your expert touch. As in the volumising conditioner, the rose water in the mist penetrates to the roots and leaves the lengths and ends nourished and refreshed. Just pop it into your bag with your favourite styling tool and you're away! Hint: it makes a perfect gift for your stylish friends.

5.

Christophe Robin Cleansing Volumising Paste with Pure Rassoul Clay and Rose 250ml

"Cleansing and Volumizing" – two words that go a long way to explaining the benefits of this pure paste in helping to preserve hair colour and vibrancy while restoring the chemical balance of your scalp. Rub a dollop of the paste into your palms, then massage it into your wet hair. Turning into foam, the paste will hydrate and cleanse your scalp and hair. Intrinsic to the formula, Rassoul Clay removes excess sebum and dirt giving the pores of your skin a chance to breathe and rejuvenate. "Oh!" you'll say. "That feels SOOOOO good!"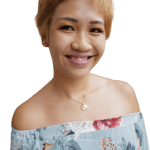 Janiqueel loves. Xe loves to dine, to drink, to travel, to primp, to rave, and to revel. Xe celebrates xem life and believes in loving without boundaries, polyamorously. This philosophy informs xem stylish lifestyle blog – janiqueel.com. Here, xe highlights new products and services in Singapore and beyond through bouncy writing and vibrant graphics. Xem premier subject, model, charmer, and squeeze is xem toddling child known affectionately to readers as "Mx. C".