Your skin has a memory. In ten, twenty, thirty years from now, your skin will show the results of how it was treated today. So treat it kindly and with respect. - Jana Elston
So many rainy days in Singapore this month. Grey, depressing, suffocating OR quiet, cosy, mind-opening. We here at Janiqueel will take the latter, thank you. Now, with Covid restrictions easing a bit at the beginning of a brand new year, these rainy inside days are a great time to think about ourselves and delve into our beauty - both within and on the outside. With surprise and delight, a BEAUTY BOX subscription worth over S$100 brings a box of diverse beauty products to Janiqueel's door every month. It's a kick to find them, open the box, and explore what this month's offering has to say for itself.
Here's a look at SIX PRODUCTS for January 2021 - a new year; a new YOU!
What's Inside?
Starskin Hollywood Hand Model™ Hand Mask Gloves
It's about time someone thought to provide a product that concentrates on deep cleansing and nourishing of one's hands. Put your hands together for this one! The hand mask gloves deliver an anti-ageing 'sauna' effect to your hands in just 15 minutes. Full of nourishing oils and butters, the gloves are easy-to-use, cruelty-free, rejuvenating and rewarding. Your hands are going to love them.
Grow Gorgeous Balance Overnight Mask (30ml)
Proudly vegan-friendly and gluten-free. Grow Gorgeous nourishes and moisturises hair and scalp and smells great in the process. The aroma comes from almond, acai, tung Wood, and rapeseed oil all of which help to control frizziness and smooth individual hairs giving an overall sheen to your hair while you sleep. Reinforcing the natural barrier of hair and scalp, Glow Gorgeous locks in moisture and lets out radiance.
SVR Hydraline Intense Moisturizing Cream (40ml)
"Intense" is the keyword here. Physiological sugars repair and reinvigorate cells holding in the natural moisture which they contain. Non-greasy, rich and silky, paraben-free and hypoallergenic, the Moisturizing Cream, applied in the mornings and evenings provide an excellent makeup base and leaves skin smooth and supple all day long and into the evening. At the office or a soiree, you'll revel in the assurance of soft appealing skin.
So Eco Complexion Sponge
What a pleasant surprise to find these soft makeup tools in the Beauty Box. Ultra-soft, you can use the sponge damp or dry. For every 100 sponges sold, So Eco plants a tree in conjunction with the Tree nation. Blending makeup flawlessly and uniformly, the So Eco Complexion Sponge rounded side is used to apply makeup to large areas of the face. The pointed end is good for dabbling into hard-to-reach places where concealers are needed most. Making the art of makeup application a pleasure, this is a tool to be treasured.
Dr Botanicals Avocado and Cucumber Natural Cleansing Bar OR Verso Eye Cream (7ml)
Dr Botanicals - This mellow yellow bar with a champagne aroma is packed with almond oil, avocado oil, grape seed, and olive oil as well as sodium palmate and sodium palm kernelate. These are nourishers for the skin that works to hydrate and feed the skin. Conducive for hand health as well, the Natural Cleansing Bar is a wonderful way to ensure good hand cleansing in these Covid days as you use it to moisturize and soften your face and neck.
Verso - "A nourishing and moisturizing eye cream" provides instant nutrition as well as long-term health to the thin, delicate skin around the eyes. Concentration on the dry areas of skin, Verso Eye Cream moisturizes as it provides a barrier to pollutants and impurities in the environment. The result is smooth skin and the diminishing of under eye bags. The yes have it!
Sleek Matte Me Liquid Lipstick (Hellacious/French Fancy/Feels/Roasted Almond)
"Matte" means that the result of the application of this lipstick promotes a subtle, quietly alluring finish to your lips. To find this cute pink cylinder in the Beauty Box was fun. Inside, the wand applicator makes putting colour to one's lips easy and precise. "Light as air", the texture in unobtrusive and lasts for hours. Mine was of a soft maroon colour easy to match with my new shirts for the new year.
For the rainy day blues, the Beauty Box was a pick-me-up just when I needed one most. Try it. You'll like it!
Subscribe to the Beauty Box today to get all these products and much more, from just S$38 a month.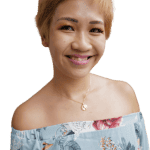 Janiqueel loves. Xe loves to dine, to drink, to travel, to primp, to rave, and to revel. Xe celebrates xem life and believes in loving without boundaries, polyamorously. This philosophy informs xem stylish lifestyle blog – janiqueel.com. Here, xe highlights new products and services in Singapore and beyond through bouncy writing and vibrant graphics. Xem premier subject, model, charmer, and squeeze is xem toddling child known affectionately to readers as "Mx. C".