Spring is springing. Easter's on the way. At my door, the LOOKFANTASTIC Beauty Egg has arrived with nine products designed to give new life to my beauty routine. From my lips to my skin to my hair to, well, all over my body these products help me look and feel my best. Because its spring and I feel the sparks of new energy and new beginnings, I'm super excited to give these new offerings a look and a try.
Let's see what's in the egg:
EVE LOM Kiss Mix Lip Balm
With a base of nourishing beeswax and a kiss of menthol, Eve Lom is proven to hydrate lips for up to ten hours after use. That's a whole day out in the cruel, drying world! Used over lipstick the balm produces a bright, glossy shine as it protects and moisturises. That hint of menthol cools your lips and your outlook as you launch into a brand new day.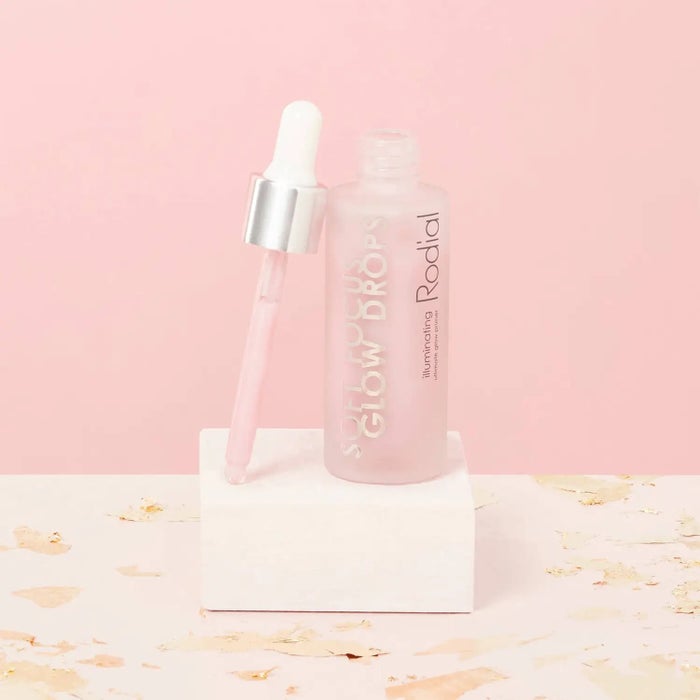 Rodial Soft Focus Glow Drops 30ml
Used as a makeup base, Soft Focus Glow Drops provides an illuminating prime for the artistry of your makeup application. You are the artist; Rodial gives you the canvas on which to perform your art. Just two drops spread across your clean, dry face unveils a dewy soft complexion. On its own, Soft Focus is an all-day moisturiser. Under makeup, it is a base for any makeup choice.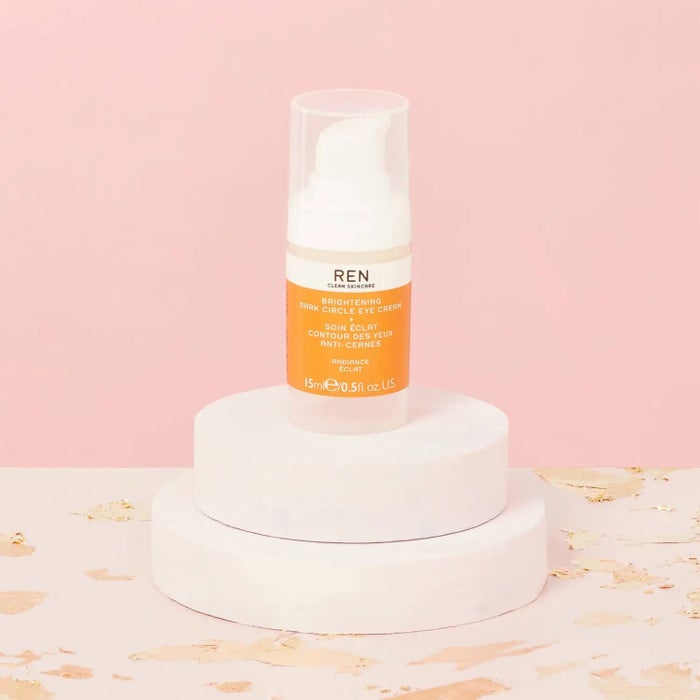 REN Radiance Eye 15ml
No friend to the face, dark circles can spoil the radiant effect that your cleansing routine is working toward. In the evening, after a thorough cleanse, massage in Eye Glow under the eyes, and then finish with the Dark Spot Sleeping Cream all over your face. As it hydrates revitalises the delicate facial skin. Part of the secret to your success is Elderberry Extract combined with glycogen to kiss those dark circles and puffiness goodbye.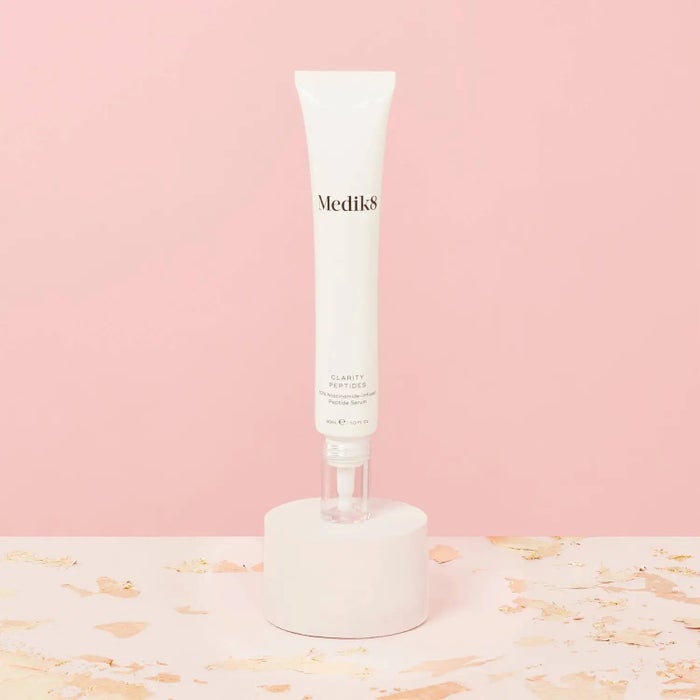 Medik8 Clarity Peptides 30ml
For stressed-out skin, this clear, light solution absorbs quickly to refresh complexions of all types. Promoting a decongested, balanced complexion, Clarity Peptides helps alleviate that dull, tired look that does you no favours. Alcohol-free, cruelty-free, and vegan friendly, Life Clarity, used in the morning and evening, uses natural ingredients to add moisture and enhance the radiance of your skin. Among the targets of Peptides are pollution and UV damage. Take good care and sleep well.
Color WOW Extra Large bombshell volumizer 200ml
Surrounding each individual hair with a bamboo blend, Bombshell Volumizer thickens each strand causing no damage. The results last for several days. When you style your rejuvenated hair, you'll notice that styling is easier with more pronounced results. Apply 2-3 pumps of the soft foam, and then comb through to distribute the volumizer evenly. For anyone with fine hair, even curly fine hair, Bombshell works to provide natural-looking, thicker hair ready for your creative styling.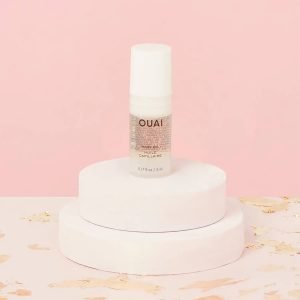 OUAI Hair Oil 5ml
For high gloss hair that is easy to style, this frizz-reducing oil is the answer. As it smooths it seals split ends for brighter, shinier, and easier-to-style hair. Good for all hair types, the oil combines violet, gardenia, ylang-ylang, and white musk into a delicious floral bouquet. "Gee, your hair smells terrific!" With one pump on your warm hands, apply to wet or dry hair comb through and marvel at the new volume and body.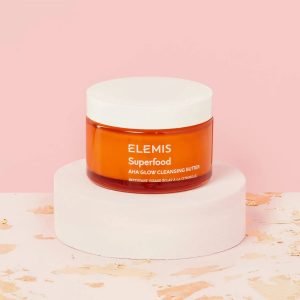 Elemis AHA Cleansing Butter 90g
With fermented pumpkin enzyme, Acerola Cherry, mango butter, and chia seed oil, Elemis cleansing butter nourishes your hair as it cleanses away the impurities that your busy daily life leaves behind. Use it morning and evening as a makeup base, or remover. Work a dab or two into your skin and rinse off. For a deeper treatment, leave it on for a minute. Feels so good!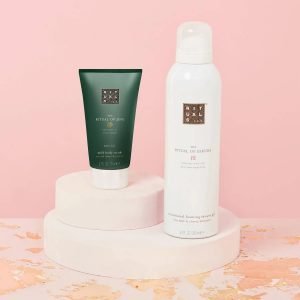 PLUS: which one of the following Rituals products will you receive?
The Ritual of Sakura Foaming Shower Gel 200ml
Just as spring brings the cherry blossoms, this foaming shower gel brings a new life to your skin and spirit. As you spread a small amount of gel all over your body, watch soothing and aromatic foam blossom and deeply cleanse. Before rinsing away, take a deep breath or two and luxuriate in the cherry-based fragrance. You are in Japan in the springtime. Ah so, desu ne?
The Ritual of Jing Body Scrub 70ml
Exfoliation never felt so good. With magnesium and a blend of nourishing oils, this salt scrub stimulates the skin to form new cells leaving smooth, rejuvenated skin. Use once or twice a week adapting frequency to your skin type. Especially effective on dry skin, Jing Body Scrub leaves skin feeling softer and smoother. Because the cells have been stimulated, creams and oils that you use afterwards are absorbed more effectively.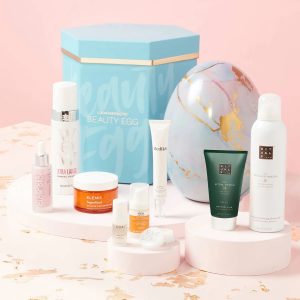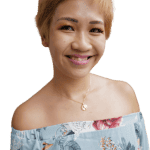 Janiqueel loves. Xe loves to dine, to drink, to travel, to primp, to rave, and to revel. Xe celebrates xem life and believes in loving without boundaries, polyamorously. This philosophy informs xem stylish lifestyle blog – janiqueel.com. Here, xe highlights new products and services in Singapore and beyond through bouncy writing and vibrant graphics. Xem premier subject, model, charmer, and squeeze is xem toddling child known affectionately to readers as "Mx. C".