Janiqueel takes a sneak peek at FIVE PRODUCTS in this year's Christmas calendar that promises 20 more surprises.
With an amazing worth value of over S$765, you can get your hands on the Advent Calendar today for just S$160! That's a HUGE saving of S$605! Always including a delightful array of beauty-care products, this 2021 edition will be no exception. For the past six years, this Beauty Bix special has sold out. Consider this a hint - order early and find gifts for friends and YOURSELF.
The Sneak Peek:
ESPA Active Nutrient Clean & Green Detox Night Mask
So appropriate for Christmas, a GREEN detox mask from ESPA. Veggie-inspired this creamy clay detox mask is a shot of skin radiance just in time for your holiday occasions. Brush it on, leave it on your face for ten minutes as you feel it dry and tighten and revitalize. Based on natural ingredients like broccoli seed oil, kale, and spinach extracts, and a rich mix of vitamins, minerals and omegas. Each time you use the ask, you will feel better and look joyous!
Shiseido Ultimune Power Infusing Concentrate
From Tokyo's Ginza, Shiseido sends a powerful circulation-boosting serum that uses nature's bounty to boost hydration and smoothness. By hydrating, brightening, wrinkle smoothing, lifting, and firming, this moisturizer brings out the skin you have always wanted. Defence and regeneration are the staple concepts that help achieve a beneficial cycle. By boosting circulation, the serum helps your skin reach a new level of visible tone.
Aveda Botanical Repair Treatment
Strengthening hair strands from the inside out, Aveda's Repair Treatment transform dry, damaged hair and leaves a new lustre, bounce, and brilliance just in time for those long-anticipated holiday happenings. Especially advantageous for colour-treated hair, the Botanical Suite of hair repair can be used as a masque, treatment, or leave-in conditioner. You'll see your hair look shinier and healthier. The Beauty Box Advent Calendar is a perfect chance to give it a try.
NARS Blush (Shade Orgasm)
With one of the raciest names in the world of beauty care, this Orgasm blush invites you to "Show more cheek". In matte, satin, and shimmering finishes, NARS Blush gives a glow that beings our the best of your cheeks. Based on a superfine powder that is virtually weightless blending with your natural skin tones or a makeup base. Delightfully presented in a mirrored tuck-away case, you'll want to carry it everywhere for an orgasmic kick to your activities.
Kate Somerville Goat Milk Moisturising Cleanser
Formulated from fresh goat's milk this Kate Sommerville product cleanses and soothes as it rinses away makeup, dirt, oil, and impurities without degrading your natural radiance and moisture. Use it in the morning to prep your face for the rigors of the day ahead, and again at night to leave your skin refreshed and relaxed as you slip into a deep, deep sleep dreaming of sugar plums.
Consider this a hint!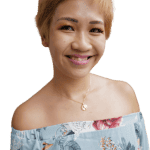 Janiqueel loves. Xe loves to dine, to drink, to travel, to primp, to rave, and to revel. Xe celebrates xem life and believes in loving without boundaries, polyamorously. This philosophy informs xem stylish lifestyle blog – janiqueel.com. Here, xe highlights new products and services in Singapore and beyond through bouncy writing and vibrant graphics. Xem premier subject, model, charmer, and squeeze is xem toddling child known affectionately to readers as "Mx. C".