Halloween night? All ghost white. Right? Not quite. This month's makeup has one product aimed directly at those looking for that 'Scary Beauty' look and others to provide colour and pizazz. Ranging through the entire makeup process from preparation to removal hours later at the end of yet another busy day. See the new products featured by your devoted writer. No tricks; only treats:
MAKEUP PREP
Bobbi Brown Vitamin Enriched Face Base 
Just as an artist prepares the canvas for a new creative effort, getting your face ready for the day's makeup is an important first step. Bobbi Brown Face Base leaves your canvas, er ... skin, newly hydrated and enriched thanks to ingredients like shea butter for suppleness, and fresh scents like grapefruit and geranium for olfactory deliciousness.
BASE
Chantecaille Future Skin Oil-Free Foundation 
Once prepped, your skin will is ready for a foundation. With a smooth, gel texture enriched with aloe leaf and camellia extract, offers coverage on which you can build your look for the day (or night). Apply Chantecaille giving special attention to uneven or red areas. Ready, set, and create a vibrant face for the day.
EYESHADOW 
Natasha Denona Zendo Palette 
Let the 15 evocative shades in the palette be the inspiration for your creative flair. Apply with a fluffy brush to start with, then attend to the details with a fine-tipped brush. From the delicious shades, certainly, you'll find one to suit your mood. If, not, don't be afraid to mix, match, and blend. Have fun with it.
EYELINER
Makeup Revolution Halloween Terror Transformation Liquid Liner Set
Watch out! There is mystery and magic in this liner set. Red, white, and black (Yes, BLACK) eyeliners give free rein to your frightful inspirations. Should both eyes have the same eyeliner?
LIPSTICK
NYX Professional Makeup Soft Matte Lip Cream 
Choose from ten luscious shades of smooth creamy colour to produce a matte finish to your lips. Lightweight with a groovy scent, this cream is nourished in subtle or not-so-subtle shades. Because it is so lightweight, you can leave it on all day (with occasional touch-ups) and look beautiful, Baby.
BLUSH
Terry Beach Bomb Brightening CC Palette 
Adding a warm blush to your base, this palette, with a non-drying formula, housed in a cute, square box with a large mirror, provides a sheer, buildable, warm blushy base. Choose from brightening powder, peachy blush, cheek highlighter, or bronzer – all include light-reflecting properties to make your beach bomb bright.
SETTING SPRAY
Illamasqua Hydra Setting Spray
With your makeup look achieved, it is time to lock it in with a hydrating, dewy formula setting spray. Even in temperature shifts, the formula provides a fresh revitalising way to ensure that your makeup will last a long time.
BRUSHES
Sigma Essential Brush Kit 
Whichever makeup you choose, whichever look you create, you'll need the proper tools with which to achieve your look. This brush kit is the answer to whatever makeup look you are building. From a tiny, precise for detailing to a large, fluffy brush for powering large areas, this kit is ready to give you the tools for your creative efforts.
HAIR STYLER
Babyliss Berry Crush Straightener & Curler Bundle 
Not enough curls? Too many curls? Straight? Wavy? Oh, my there are so many hairstyles to try! The Babybliss Bundle is here to help. Continuing two styling wands for ultimate variety - both are safe and a pleasure to use.
MAKEUP REMOVER
Elemis Pro-Collagen Cleansing Balm
You did it! You made it through another long day. Now it's time to cleanse and thank your faithful facial partner. With a trio of benefits, Elemis is a wholesome balm, an impurity broom, and a hydrating cleanser. Now, it is ME TIME. Enjoy, you've earned it.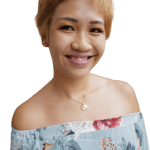 Janiqueel loves. Xe loves to dine, to drink, to travel, to primp, to rave, and to revel. Xe celebrates xem life and believes in loving without boundaries, polyamorously. This philosophy informs xem stylish lifestyle blog – janiqueel.com. Here, xe highlights new products and services in Singapore and beyond through bouncy writing and vibrant graphics. Xem premier subject, model, charmer, and squeeze is xem toddling child known affectionately to readers as "Mx. C".