Janiqueel may have found her favourite collection from elements this month.
Showing that what is good for your skin can also be helpful to the planet, the June Elements Edition arrives in a recyclable box. It's a recyclable beauty that can also be used as a handsome storage box for your home. Let's have a look at 6 of the new products:
Balance Me Pre+ Probiotic Cleansing Milk (30ml)
With a gentle wipe of this lightweight mild cleanser, you can restore your skin's balance after a busy day in the city's elements like pollution, sun, and excess oil. Formulated with salicylic acid, willow bark, manuka honey and oat milk, this cleanser is built to exfoliate, restore, soothe and calm.

ESPA 24 Hour Replenishing Eye Moisturiser (7ml)
ESPA is one of Janiqueel's favourite beauty products. The product it contains used once every day will enhance the natural moisture content of the oh-so-thin skin around your eyes hydrating and softening the areas that are prone to tiny lines which grow into not-so-tiny wrinkles.

The Ritual of Jing Mild Body Scrub (70ml)
Composed of 'Ultra-fine bamboo particles'- this one in forest green, the creamy substance is, as the name implies made to be used all over your body. Treat yourself to a sensuous, exfoliating, titillating scrub. Sense the aromas of Sacred Lotus and Jujube as dead skin cells are brought to the surface and rinsed away. It can be safely used on sensitive areas like your cleavage, neck, and.. Well, let your imagination be your only guide.
Dr Lipp 100% Natural Red Radish Tint (8ml)
For lips, cheeks, and eyelids, this natural tint is actually made from plant pigments. I'm sensing a pattern this month with food and plant-based skin products. I'm getting hungry! No unwanted chemicals here - the tint is natural and will leave your face highlighted with a healthy glow as if you just came in from an invigorating walk in the sunshine. Maybe you did!
So Eco Gentle Facial Buffer
Used with or without cleanser (like the Balance Me Cleansing Milk, for instance) this sponge-like oval pad is a natural complement for your skincare kit. Made of 100% cotton and packaged ecologically, the pad feels so great when used morning and night. It's an effective tool to clean off makeup residue and purify your skin. If you are a cat, you will be purring when you use it. If you are not a cat (no worries, most of us aren't) imagine the purring or bring your cat into the bathroom with you.
Philip Kingsley Finishing Touch Polishing Serum (20ml)
It polishes your hair. What a concept! Propylene Glycol nourishes as it conditions your hair. Vitamins B5 and A provide protection from a world of pollutants. With just a tiny bit on your palms rub it smoothly through your heil and feel it groom silky and alive. It can be used on damp hair then toweled off or on dry hair and left in for an ultra-smooth sleek look that will definitely grab attention.
Welcoming summer and, we hope, restriction-lifting. June Elements are a great way to go out and welcome your old friend - THE WORLD!
Subscribe to the Beauty Box today to get all these products and much more, from just S$38 a month.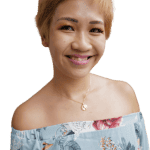 Janiqueel loves. Xe loves to dine, to drink, to travel, to primp, to rave, and to revel. Xe celebrates xem life and believes in loving without boundaries, polyamorously. This philosophy informs xem stylish lifestyle blog – janiqueel.com. Here, xe highlights new products and services in Singapore and beyond through bouncy writing and vibrant graphics. Xem premier subject, model, charmer, and squeeze is xem toddling child known affectionately to readers as "Mx. C".