The festive season is upon us and what better way to kick off the party season than with the December 'A Moment of Magic' Beauty Box. Filled with six products worth over S$110 from cleansers and masks to blushers and highlighters, find everything you need for the ultimate party-prep or post-gathering pamper.
See this year out with and don't miss out on this fabulous Beauty Box Plus. Beauty Box makes the perfect gift for someone you love this Christmas! So why not treat them to the gift that keeps on giving? Present them with a Beauty Box subscription today!
This month's Big Beauty Box Bounty:
Elemis Pro-Collagen Marine Cleanser
Helping to promote skin elasticity (a well as bone density), collagen is a natural ingredient in this frothy, soothing cleanser. In the morning and evening, massage the soft rich mixture into your skin and rinse off. So easy, yet so effective. Feel daily grime and excess oil gently leave the surface leaving a smooth, bright, skin surface. Magnesium, Zinc, Copper and a trio of acids are the natural ingredients that produce deep-down-into-the-pores results. Welcome to a festive face -- yours!
Eyeko Spotlight- Highlighter
For those who revel in giving special attention to the fine details of beauty -- the Spotlight Highlighter. Blended with jojoba oils, this brow arch highlighter, used under the brow line lifts and illuminates to show off your special sparkle. Doing so is always important, but especially in this holiday social season. With the sculpted, soft pencil, draw a line under your brows and a dot in the inner eye corner, blend, look in the mirror and see what a difference attention to small details can make.
Starskin Gold Eye Mask
Self-warming, the gold foil under-eye masks won't slip and slide after application. Smoothing out puffiness and wrinkles, the mask leaves an ideal surface on which to apply makeup after just a fifteen-minute application. Rose of Jericho, Marshmallow, Brightening Butcher's Broom and Butterfly Ginger are among the intriguing ingredients in the formula. As the foils sit on your skin, they slowly warm giving you the sense of the glow. Heavenly!
GLOV Eye Mask
NOT the normal eye mask, the GLOV is fleece-lined and covered with sequins. Should you be on the same flight as me just before Christmas, look for the deep-sleeping passenger under a glittery mask. That's me! The wide elastic straps hold the mask in place and the fleece adds a new dimension to dreams. Holland and France will be the settings for my dreams. Join me on the canal for Christmas coffee? My treat!
Lottie London Ombre Blusher
Blended to produce a soft, sexy blush, the Ombre Blusher are vegan-friendly and paraben-free. Use with discretion -- you may look dangerously delectable. Easy to use -- just swirl a bit with your finger and paint your cheekbones and/or the apple of your cheek. Feeling cheeky? No worries. It's Christmas and you're living large and showing it! Even in Singapore's warm weather, you will look like you're just back from a romp in the snow with the elves.
Hollywood Browzer Single Razor
I had to wonder what it was when I first saw this product in my Beauty box. I found out. I tried it. I loved it! It's a precision tool to attend to beauty's details mentioned above. For eyebrow-shaping and 'derma planing' of the eyebrows or other body parts where small hairs may be unsightly, this tiny razor is pain-free and leaves a smooth, salon-quality result. And you've done it yourself! You can step out in style immediately after use. Leaving no redness or irritation, the Hollywood Browzer is the small (take it with you anywhere for quick touch-ups), inexpensive companion for the detail-oriented self-starter. That's YOU!
Have a BEAUTIFUL HOLIDAY! OK?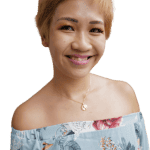 Janiqueel loves. Xe loves to dine, to drink, to travel, to primp, to rave, and to revel. Xe celebrates xem life and believes in loving without boundaries, polyamorously. This philosophy informs xem stylish lifestyle blog – janiqueel.com. Here, xe highlights new products and services in Singapore and beyond through bouncy writing and vibrant graphics. Xem premier subject, model, charmer, and squeeze is xem toddling child known affectionately to readers as "Mx. C".